Your CPD, Your Way: Tracked, Recorded and Certified, 24/7
If you are Chartered. If you want CPD to keep you on top of your game. If you want it tracked, recorded and certified, then read on. Everyone else stop here.
Dashboards and badges enable you to explore your learning data and find the information you need, quickly and easily for your SPS, your compliance or your manager – it maps, audits, records, tracks and certifies
ALL your learning activity on the EP website. On a nice dashboard.
---
What makes Expert Pensions CPD model unique?
What do you want to learn?
High quality and relevant modules set at the right level (level 6) for Chartered Financial Advisers
Keeps pace and covers legislation and regulatory changes.
What is the learning objective?
Specific and clear learning objectives outlined for each CPD module.
How will you meet this objective?
Structured CPD module designed to provide a blended solution to suit all learning style.
Learning made easier and interactive…we provide study notes, quizzes, assignments, video tutorial and webinars.
Do the learning
Fit in with your busy schedule as we give you online access to all of this 24/7.
Earn while you learn…You will be awarded 2 digital badges per module upon completion of the quiz and assignment.
Example badges shown:
What is the learning outcome?
We will provide Digital badges and certificates detailing the Learning outcomes for each module you complete.
Record and document learning
Digital, transferrable CPD badges recording hours earned.
Each individual module will provides you with 8 hours CPD.
Learning objectives, outcomes and hours available provided with CPD Standards office certificate.
MI reports available detailing all learning.
We offer a great opportunity to earn badges of attainment which can be shared across the whole spectrum from your personal development plan, through social media to your CV and beyond for the purposes of your Statement of Professional Standing (SPS).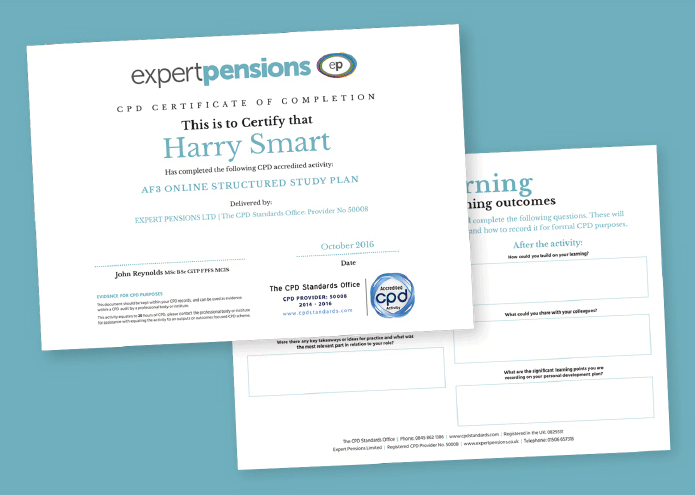 We are giving you access to all of this fantastic learning, it is online and available 24/7…it's tracked…it's certified and it's badged!

Welcome to Expert Pensions.