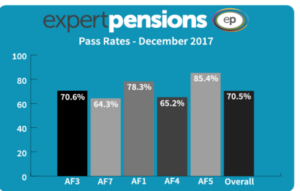 We all know how much hard work you all put in to achieving that all important pass and our results show that our study packages work. We are at the midway point and it is SO important that you are fully engaging with your study plans. There are three steps to success:
• Dual learning – read your notes and watch the video's
• Retrieval practice – do the quizzes a chance to put the theory into practice
• Concrete examples – 'doing the doing' complete the cycle by reinforcing what you have learnt and applying the technique to the exam style questions – it's a no brainer!
If you are looking for a bit of a boost to your studies and would like to experience Expert Pensions' three P's (Preparation, Positivity and Practice) before the exam we still have limited spaces on the following face to face workshops (you must be enrolled on our structured study plan before you can book):
AF4 – Bathgate 21st to 23rd March
AF5 – Milton Keynes 12th April
AF7 – Virtual Workshop 3rd to 5th April
Please contact the office for more details:
Telephone: 01506 657318
Email: hello@expertpensions.co.uk